A Hunting Adventure Smash Bird Revenge Crush Sniper Game Flappy Edition By Clumsy Attack Smasher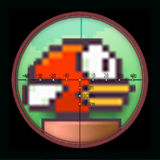 Release Date: 2014-04-29
Current Version: 1.01
Adult Rating: 12+
Developer: LONGFEI JIN
Compatibility: iOS, Android
Rating:

5/5 from 922 votes
New design, new hunting place, new guns!
Aim & Shoot! Hunt bird in the wild world. Have fun!
Tilt the device to aim and Tap to shoot and kill.
•EASY CONTROLS
•Awesome Graphics
•Multiple TARGETS!
•Improve your skills and unlock new hunting place
•Compete against your friends
•Addictive gameplay
•Simple and fun
•It's FREE!!!
Don't miss a single Shot….or you will end up losing the game!
Download free A Hunting Adventure Smash Bird Revenge Crush Sniper Game Flappy Edition By Clumsy Attack Smasher app for iPhone, iPad iOS or Android APK.