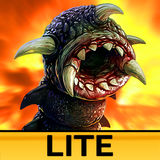 Release Date: 2010-12-15
Current Version: 1.66
Adult Rating: 9+
Developer: PlayCreek
Compatibility: iOS, Android
Rating:

4/5 from 3,194 votes
Meet the highly anticipated iOS version of the *ORIGINAL* Death Worm game (a Top-50 indie game of all times according to indiegames.com).
Over 10,000,000 of downloads for Death Worm, 10 Million people addicted to Death Worm can't be wrong!
Control the mind-boggling underground monster with your finger! Eat people, animals and birds, blow up cars and tanks, bring down planes and helicopters, defeat the army and even the aliens!
The Lite version features:
* explosive survival game
* 50 enemy types
* Retina display support!
* Death Worm is a Universal App !!!
Try Lite version now and get much more in the Full version :
* campaign mode with 60 levels on 4 different locations
* 3 bonus mini-games (Air Defense, Super Dash & Countdown)
* 4 worm types
* LIMITED TIME OFFER – FULL VERSION IS JUST $0.99 *
Download free Death Worm Free app for iPhone, iPad iOS or Android APK.