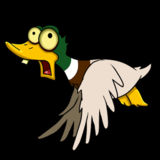 Release Date:
Current Version:
Adult Rating:
Developer:
Compatibility: iOS, Android
Rating:

4/5 from 36 votes
Check out Zombie Duck Hunt 2 now available in iTunes! Get those zombie ducks before they get you!
What flies south in the winter and quacks "cruummbbbssss"? Zombie Ducks! And they're invading your iPhone and iPod Touch! Only you can stop them, so it's time to go on a Zombie Duck Hunt.
As you dispose of undead birds intent on slowly nibbling you to death, unlock new weapons and earn extra lives. Watch out though, Killer Geese and Mutant Quail are also on the prowl!
Don't wait; pick up your trusty gun and make these zombies wish they were dead. Again. Otherwise, it's breadcrumbs today, your brains tomorrow.
*** Also remember the more 5-star ratings we receive the more updates we will do! ***
***FEATURES***
-3 Difficulty Levels
-2 Game Scenes (Forest & Desert)
-Unlock weapon upgrades
-Earn extra lives
-Open Feint achievements and global leaderboards
-Original soundtrack
-Background changes depending on time of day
-Accelerometer action action action
-Zombie Birds!
***CONTACT OR JOIN US***
All feedback & suggestions are welcome at [email protected] Don't be a stranger!
Website: http://BrokenThumbsApps.com
Facebook: http://Facebook.com/BrokenThumbsApps
Twitter: http://Twitter.com/BrokenThumbsApp (no 's')
***MORE GREAT APPS***
Emily's Dress Up & Shop
Galaxy Getaway
Pocket Home
Quizzles, Quizzles, and more Quizzles!
Download free app for iPhone, iPad iOS or Android APK.
Zombie Duck Hunt Screenshots